2020.02.16 09:27 Sourjelly:3 Edit
Thank you for the waiting everyone and I'm really sorry for taking so long.
I didn't expect reviewing will take this long X_X;;
待ってくれて本当にありがとうございます!そして遅れて本当に申し訳ありません。
Steamのレビューがこのように長い時間がかかることは予想していませんでした。
Release date will be Feb 28 12am PST
Steam Versionの 発売日は2月28日午前12時(PST)です
Also, there going to be update for Anthophobia. (Update release date :TBA)
また、Anthophobiaの更新も予定されています。(更新予定日:未定)
This is not major content update, It's Something not very nessasery.
This is just for my personally satisfaction.
これは主要なコンテンツの更新ではありません。
これは私の個人的な満足のためだけです。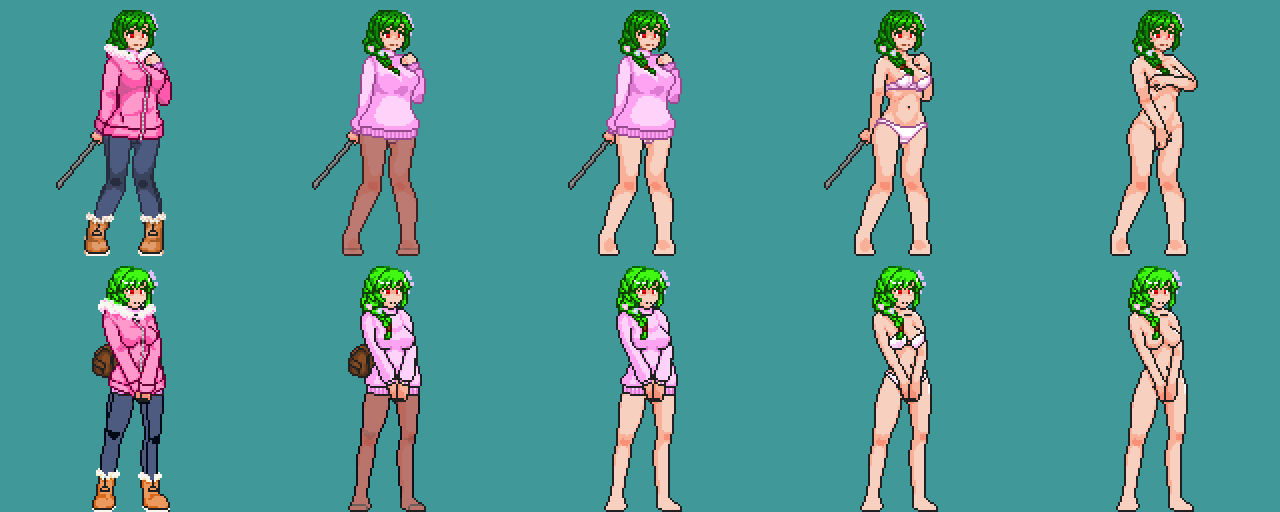 All basic moveset animation will be remade
(###########Not H animation!!!############)
すべての基本的なアニメーションがリメイクされます。
(########### Hアニメーションではありません!!! ############)
but I can't guarrenty the actual update release date since I'm working on new project as well.
Personally I wish I can remake the cutscenes of Chapter 1,2,3 area too, but that'll take hell amount of work, so I'll think about that after I finish the animation remake.
しかし、私は新しい予言にも取り組んでいるので、実際のアップデートのリリース日を保証することはできません。
個人的には、V1.00からカットシーンもリメイクできることを望んでいますが、それは非常に多くの作業が必要になるので、リメイクアニメーションを終了した後でそれについて考えます。
Q: I like the original animation. Will you give me an option to switch between original and remake version?
A: that's My main goal for this update.
Q:オリジナルのアニメーションが好きです。 オリジナルバージョンとリメイクバージョンを切り替えるオプションを教えてください。
A:それが今回のアップデートの主な目標です。
Uncensoring patch for V2.00 : [Link]
Uncensoring patch for V1.50 : [Link]
Q: How to access V2.00 Area?
A: You must find 9 gold cards from Chapter 1/2/3/1.5/2.5/3.5
Q:V2.00エリアにアクセスするにはどうすればいいですか?
A:Chapter 1/2/3 / 1.5 / 2.5 / 3.5から9枚のゴールドカードを見つけなければなりません

Anthophobia V1.50 (攻略)
もしかしたら、ゲームの難易度に起因する問題を抱えている場合は、このブログを訪問してみてください!
NERRさんが皆のための完璧な攻略を作っていただきました!ゲームのマップもあります!

Those of you who didn't tried the demo for V1.50, try it!
V1.50のデモ版をまだ体験していなかった場合は、今すぐお試しください!
[Click this link to play Anthophobia v1.50 Demo on Newground]
You can also play the V1.50 Demo on Newground without download the file!
ゲームをダウンロードしなくても、このサイトでプレイを試みることができます!
Trackbacks 0
Leave Comments